Today's adorable quiet book pages come to us from Camille of
Sugar Baby Boutique
. I really love these pages; they are just so
cute!
I adore all of the hand-sewing; it adds such great detail and awesomeness to the pages. I also love how well cut out the dress up clothes are. Camille started these pages with the intention to make more; the "more" haven't happened yet, but as she says, they're back on her to-do list! We'll be excited to see those in the future. For now, check out the cuteness of what she's already made!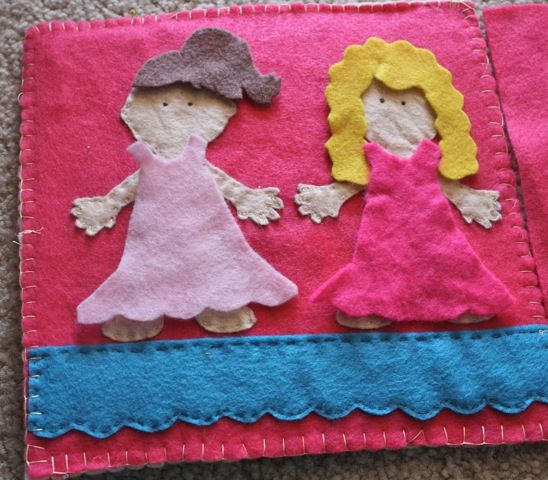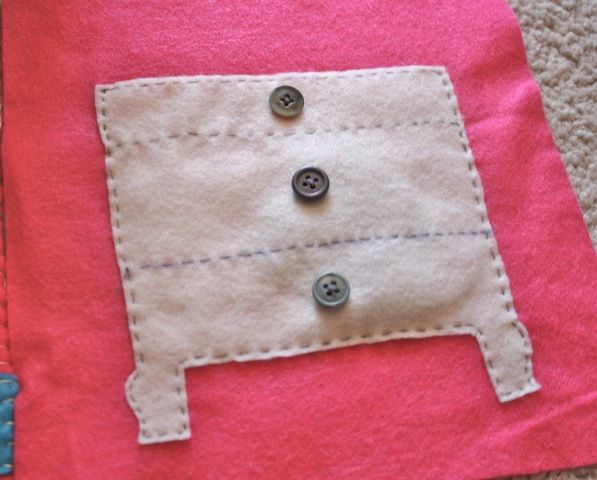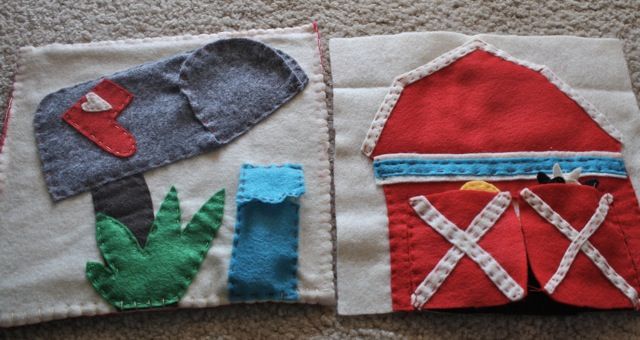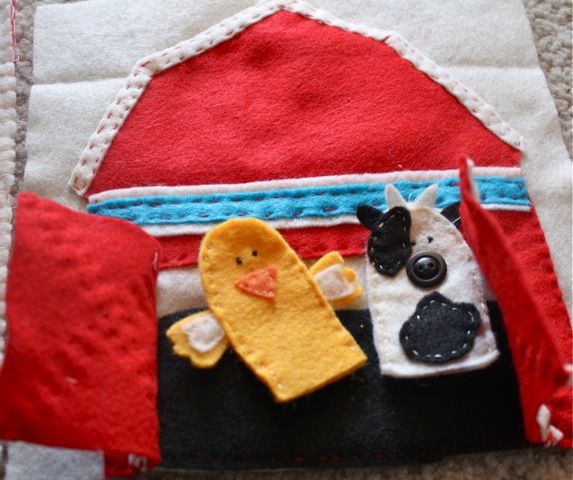 What's your name? Describe yourself in one sentence.
Hi my name is Camille. I'd describe myself as a bookworm mom who loves to create. :)
Who did you make this quiet book for? How old are they?
My two toddler divas. ;) They are 4 and 2.
What's your level of sewing experience?
My experience is self taught. But I love to pretend I know what I'm doing and figure things out.

How long did it take you?
These pages took me probably a total of 4 hours...all in one day (I was on bedrest and had nothing better to do!).

Did you use any templates? Where can they be found?
I made up my own templates for the dress up page and used my friends Cricut cartridges for the dolls and clothes. I found barn & mailbox here:
Homemade by Jill: Quiet Book Templates.
How did you bind your quiet book?
I actually haven't finished my quiet book! It is now back on my to-do list. :)
What material are the pages made out of?
They are made out of felt, with cereal boxes in the middle to make them a little more sturdy.
What other materials did you use?
I mostly just used felt, hot glue, & buttons. Oh, and cereal boxes.
How much did all the supplies cost you?
Free! Well...I had them all on hand. I'd guess it would only be a few dollars though if you went out to buy it all.

What's your favorite page? Why?
I love the dress up page. My girls love it and I think the little dresser is fun to hold all of their clothes.
To see a couple more pictures of Camille's pages (with more details and explanation), click
here
. Thank you, Camille, for sharing your quiet book pages with us, and we look forward to when you make more in the future!
Have you made a quiet book that you'd like to share? Click here for instructions on how to submit your own quiet book!